$99
For Windows 7, Vista, XP
eBook to Flippingbook3D
Convert ebook to 3D flipping format to read on PC, Mac or Mobiles!
eBook to Flippingbook3D is wonderful eBook converter software to convert almost all kinds of ebook files to the 3D page flipping books, for easy publishing online or just distribute offline. You can use the wonderful software customize settings to design your 3D flipping book style, background skin, toolbar features, Google Analytics, password security and so on. You can publish created 3D page flipping publication online for people to easy view on PC, Mac and most popular mobile devices.
Free TrialBuy Now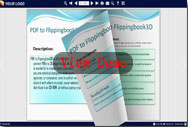 Flash Player 10.0+
Why Use?
Features
Screenshots
How It Works
Use eBook to Flippingbook3D, you can:
Different way to present eBook;documents;to your readers;
Import bookmark to show automatically;
Build-in template and page editor;
Enable download, print, fullscreen, autoplay in Flipbook;
Output in various output options;
Mobile device support;
Share to anywhere with anyone;
Show your eBook files in different way to your readers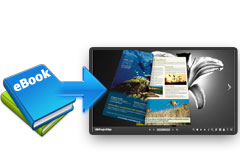 No matter you are a trainer, a teacher or an author who has a great of eBook files to be distributed, do you want to change a format to bring some fresh reading experience to your readers? The intelligent eBook to Flippingbook3D is perfect tool to rescue you from the situation and present your eBook in an attractive and stylish way. eBook to Flippingbook3D is the wonderful software to help you convert your eBook to catalog, magazine, brochure, etc, with flash page flipping effect applied.
Edit bookmark to show automatically
In Scan to flippingbook3D, you can edit bookmarks to show in your 3D flipbook automatically. The bookmark panel will help all book readers to view main book content and find out certain part quickly. It's a very convenient feature for readers when your publication is large with multiple pages.
Control Download, Print, Autoplay and other features
Want to let your page-flipping book can be downloaded or printed? Want to give your readers more access to you flash flipping publication? All these requirements can be carried out in eBook to Flippingbook3D. You can enable your readers to download the flash page flipping book, print each page, auto play the book, view in full screen,  insert web link in page flipping book for book readers click and go to appointed place directly. All these tools also can be disabled in design part.
Build-in template and page editor
eBook to flippingbook3d provides various and flexible options for you to customize stunning 3Dpage flipping book. There are different stylish templates and themes for you to create 3D flipbook without any time cost. You also can design the book layout to make your book special and attractive manually, change the background photo, add background music, insert logo, link in title, etc.
Output in various output options
eBook to Flippingbook3D gives you flexible output choices, no matter you want to publish your created flash 3D page flipping book online or stay offline. You can choice output as HTML format to create online page turn book, EXE format to install on PC, Zip format to package to share with others, APP format to view on Mac platform. And also you can burn page turn book on CD or even create mobile version to publish online to view on mobile device.
Mobile device support
With using eBook to Flippingbook3D, your created masterpiece can be viewed on most popular device, such as iPhone, Android phone, iPad and Android tables. Your readers can access your 3D digital flipping documents in the most convenient way regardless of the device they use. Your catalogues, magazines, brochures and books will be available to all your clients and business partners on any computer or mobile device.
Share to anywhere with anyone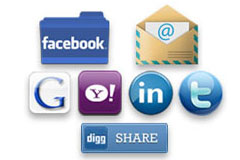 The created flash flipping book can be shared! Once you publish created flipping book from ebook to Flippingbook3D on website, you and your readers can easily share the 3D flash flipping book with others by click the "email" and "social share" button on toolbar. Convenient  for you and your readers to share the page flipping book on Facebook, Twitter, Google+, MySpace and others popular social website.
Quickly eBook import
Quick import eBook from your computer directly;
Flexible page number import, choose all pages, custom page or only import 10 pages to preview;
Various page quality and size options;
Set watermark to authorize your page flipping book;
Keep original bookmark (table of content) from eBook to 3D page flipping book;
Reserve link from eBook to flash page flipping book;
Let or not let readers to full-text search in Page turning book;
Automatic adjust the page layout, detect wide/long pages to suitable layout.
Flexible Output Options:

Once you created digital page flipping book from eBook to Flippingbook3D software, you can output it as various format, such as HTML, ZIP, EXE, App, Mobile version, or Burn to CD/DVD.
HTML format: Makes you flipping book to a website to be viewed online;
ZIP, EXE formats: share it with zip/exe format to others by email to be viewed on their computer;
App format: output as app format for viewed on Mac system;
Make Mobile version: upload online to makes created flipping book works on iPhone, Android Phone, iPad, and Android tables device;
Burn to CD/DVD: burn on disk and sent to others for playing on their computer.
Preset Template and theme:
Four build-in templates: Classic, Float, Neat and Spread;
Each template contains different pre-designed themes;
Many free themes can be downloaded to use from our website;
You can remove the template and theme which you don't want to use anymore.
Personally customize theme based on different templates:
Add book Logo, book Title, and logo URL in title bar;
Show or hide the toolbar or other buttons (home, full screen, help, share, social share…);
Set permission for printing, downloading, (social) sharing;
Add background music and set looping time;
Zoom in & zoom out button makes it better to view the flip book;
Auto play setting allows it to play as soon as you open the flash flipping book;
Help button allows you to add Help image or Flash to guide the readers;
Self or blank open window for home page and links;
Choose your favorite background image;
Color setting for background, font, buttons, icons;
Font setting for flash, bookmark, buttons…;
Edit book proportion and margin;
Insert page number and start page number;
Page shadow setting, left-to-right or right-to-left reading;
Choose a hard cover for the eBook;
Show flipping effect at the corners when the mouse moves over;
Access authorization to protect all pages or certain page(s) from being viewed;
Choose the Minime style that hides the toolbar;
Define the language for your flipping book or use two or more kinds to make languages switchable;
Add Google Analytics Integration to track the statistics;
Save the template settings for later use.
Page turning book interface:
Share page-flipping book via e-mail or load on social websites, Facebook, Twitter, MySpace, Google+, etc;
Full Text Search function lets you search 3D page flipping book for all pages by input keywords;
Switch language to change interface language;
Click link in pages or Home button to jump to appointed web pages;
You and your readers can print or download 3D page flipping book;
Turn on/off background sound;
Zoom in/out digital publication page size;
Read 3D page-flipping book in full screen mode;
Auto-Play your digital publication by click the "Auto" button;
Read 3D page flipping book in single page mode;
Search and go to pages by Thumbnail navigation mode quickly;
Page arrows provided: First, Previous page, Next page, Last page;
Use mouse wheel, keyboard to flip page directly.