Free Presentation Maker Service - Make & Edit Effective Presentation in Easy Way
Presentation is believed to be one of great and innovative methods to present ideas and arguments to persuade audiences. It is popular with the people from nearly all the fields including education, business, finance, technology etc. Well, with the development of technology, it is not difficult to make and edit an effective presentation now. Even more and more people give up the conventional Microsoft PowerPoint, and start to look for a better presentation alternative to accomplish their tasks.
When you begin your work to search for a wow factor, you may take the price of into account, right? For most of people, apart from multiple powerful functions, the free use of a presentation maker is more significant. When you are reading this article, congratulations, here is the right place for you. In order to give you a better presenting way, Focusky free presentation maker service will be carefully introduced here to help your effective presentation operation.
Productive Start Interface
A productive start interface undoubtedly serves to your smooth work. Focusky provides you a variety of methods to start your presentation design work. In its Start Interface, you are able to import an existing PPT file or image to start a new project, open a published project from the folder to continue to edit, or directly open a saved project form local computer to create your stunning presentation. Of course, you can also click "New Empty Project" to start a blank project, or choose to click "Recent Project" to polish your edited project. In addition, in this interface, you can also find the list of Online Templates, and you are allowed to download any type of template to build a new project and search online templates by typing the key words. Besides, registering, signing in your account, upgrading account all meet your purposes.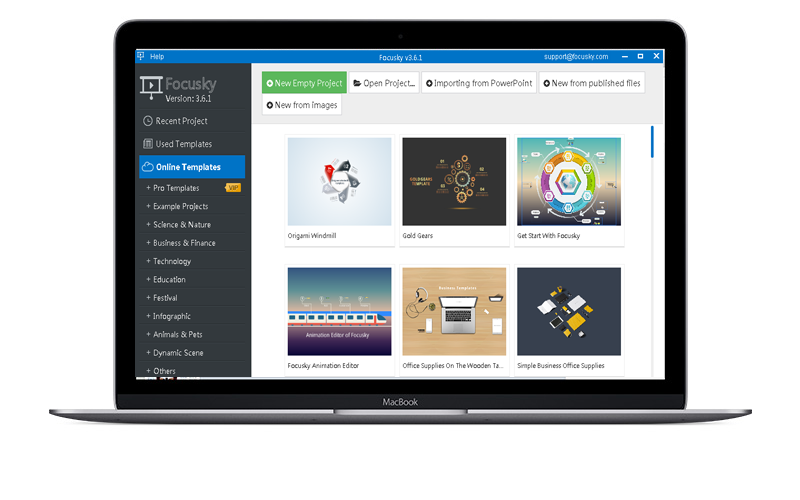 Unlimited Online Hosting Platform
Focusky offers unlimited editing canvas that allows the user to add 4 types of frames to create new path, including rectangle frame, bracket frame, circle frame and invisible frame. Meanwhile, you can choose objects (text, images, shape, roles, symbols etc) to draw on the canvas to make a highly editing. Besides, you are able to zoom in/out Focusky canvas to enhance your presentation with 3D visuals, which is very responsive and like a movie. What's more, the canvas can be locked with ease by the user, and if you want to edit your presentation in the grid canvas, you can directly click the "grid" button to make it. It definitely makes your presentation work more effective.
Amazing Animation Effects
It is so cool if your presentation content performs with animation effects, right? In fact, an animated presentation will help to engage audiences with your contents. Focusky presentation maker service also endows you with the ability to add animation to any selected object. You can add entrance effects, emphasis effects and exit effects to your destination object, or add action paths to the selected item to create animated visual effects. You can completely control over when the effect appears and how long it lasts. You are also free to change the effect or remove it. What's more, this service helps you record your previous added effect and it can be found from Historical Effects. This special feature truly brings a lot of convenience to the user.